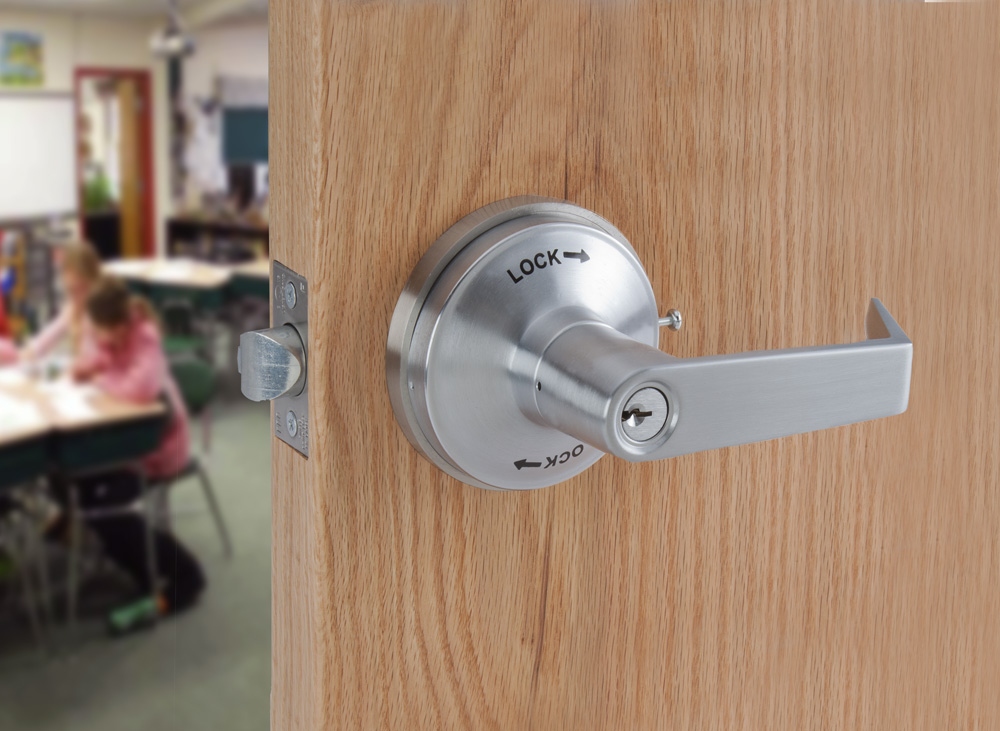 Classroom Security
has been becoming an alarming and increasing issue across North America in recent years, with the increasing numbers of armed intruders causing havoc to junior elementary (sub-primary), elementary (primary), junior high school and senior high school campuses, as well as a number of higher education colleges and universities.
Intruders, often bullied former students or disgruntled staff members, are fast becoming a major thorn to the security of our children while they are at school.
Delaware State House of Representatives
, this week is currently debating and voting on a major policy change and update, aimed at increasing significantly, the security hardware and protocols at all the states schools, colleges and universities.
Many schools across the USA, already use quality door lock systems to secure doors, but many of the existing measures have been found wanting in recent times. This has caused much angst by parents and teachers, concerned with offering quality education to our children in safe, secure environments.
There are a great many products across the wider marketplace that already offer significant strength and security, but too few schools are bothering to spend the necessary investments to protect their faculty, staff and pupils.
There are many different brands of lock systems that provide increased strength and design, to better protect our children, including double cylinder lever entrance sets (called
Classroom Locksets
), including but not limited to
Yale, Corbin, Schlage, Arrow, Assa, Abloy
and many others.
Essentially,
"a double cylinder classroom lockset functions like almost any other lever or knob entry set, except that it uses an internal keyed cylinder to enable the locking of the outside handle, while ensuring the inside handle remains unlocked and still easy to escape through, if required (maintaining life safety and International Building Code policies and rules)."
Some schools and institutions are spending millions of dollars to increase the security of their classrooms and entrances, but often they neglect to ensure that doors and windows include bullet resistant glass or resistant window films. Many seem to believe that the quality lockset and an alarm system will provide enough security to prevent an armed intruder from wreaking havoc through their schools.
Delaware
are debating the inclusion of
alarm systems
,
bullet proof accessories
and
double-keyed locksets.
In our 35+ years of locksmithery across the world, we have installed many locksets to school entrances and classrooms to increase the security of these doors.
In one case many years ago, one school decided to install
double cylinder deadbolts
to every door, as recommended by their security analyst and architect,
before
consulting with
professional locksmiths
, who are deliberately trained in
physical hardware that complies with life safety, building codes, insurance requirements
to protect would-be users of these rooms.
Our company was asked to install according to the plan and completed the request, against our better judgement, while warning the school officials that their desire was not legal. One week prior to the opening of the new school term, state and local inspectors came in to certify the school for opening, but when they saw the double cylinder locks fitted to all doors, they immediately failed the school because they did not comply with building and life safety codes.
Our company was once again called in to rectify the issues with new "approved" products that met or exceeded the codes, adding significant cost to the project. Our company worked overtime to complete the task prior to the school opening on time.
This reinforces the point that involving your local trained professional locksmith can and will augment your bottom line costs and save you considerable angst and compliance issues down the road.
There are many
professional locksmith companies
across North America, that provide
trained professionals with field experience
that are able to provide best-case-scenario advice, that will help any organization to increase their physical and electronic security measures, without breaking the bank.
(source...)