Artificial Intelligence
has grown in recent years to such a point that according to a team of 5 NYU researchers, fingerprint identification, found in many products today, including but not limited to
deadbolt locks, entrance sets, electric strike user interfaces, access control and time clocks
, among other modern day electronic products, is
now able to contravene the once thought of high security alternative to mechanical key entry systems
.
We have previously touted the benefits of
biometric fingerprint security
scanners that were/are included in a great many differing products, including a (now discontinued)
high security deadbolt lock
that we sold many years ago. We realized the error of our ways, when a number of older clients were finding tremendous difficulty in registering and using
the fingerprint deadbolt locks we once recommended
. Specifically we found that if you were over 55 years of age, your fingerprints wear more quickly as you age. This proved to be an impediment to future sales of fingerprint operated biometric products because many elder users would have been the primary beneficiaries of keyless, fingerprint operated lock systems.
It is obvious that
Apple
, recognized the
limitations of fingerprint identification
systems when they decided to discontinue fingerprint readers in many of their largest selling product lines, like the
iPhone
, the
iPad
and other products. Many competing product manufacturers also included fingerprint readers in a host of other products, hoping to also cash in on the once burgeoning sector of the electronics products markets.
An excerpt from the article quoted in the source below explains....
"
Named 'DeepMasterPrints', the set of fake fingerprints was generated by the NYU scientists using a neural network to be some sort of 'master key' for biometric authentication systems that have an error rate of one in a thousand. To work this well, DeepMasterPrints takes advantage of two properties fingerprint authentication systems have: that they scan only a part of the finger at any given time and not the whole finger; and that some features of fingerprints are more common than others.
So, the weakness in the system here, explains
The Guardian
, is that fingerprint scanners never blend all the partial images to match a full fingerprint against a full record. Instead, they just compare a partial scan against partial records. This means that attackers need only match one of tens or even hundreds of recorded fingerprints in order to gain access into a secured system.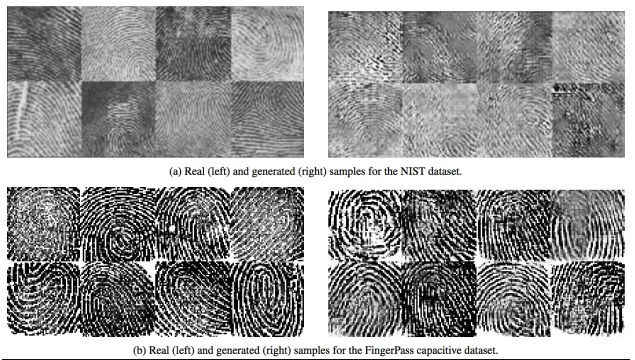 The scientists' presented their research paper at a biometrics conference in Los Angeles in October. "The underlying method is likely to have broad applications in fingerprint security as well as fingerprint synthesis," said NYU's Philip Bontrager, the lead author of the paper in a statement to
Gizmodo
. "A similar setup to ours could be used for nefarious purposes, but it would likely not have the success rate we reported unless they optimized it for a smartphone system."
Naturally, as a security services and products provider, we try to remain updated on issues affecting security products and services to enable us to provide our growing lists of customers with updated information regarding products and services aimed at minimizing issues and mitigating security loopholes.
Apple, introduced facial recognition in many of their products, which seems to be becoming quite widely accepted across the wider marketplace.
We highly recommend consulting your local trained and qualified locksmith technician, who can advise you on great quality secure products that will provide continued secure access to your properties and security systems.
At Master Key Systems America LLC, we provide Extreme Security Bilock Restricted mechanical key systems that are virtually unparalleled across the world for bump proof and virtually pick proof locks and cylinders that use virtually copy proof, unique color coded keys. We can produce complex master key systems that can operate up to 1.7 billion separate locks.
There are other brands of high security mechanical key systems that also offer quality security. Contact your local professional locksmith to learn more.